Elevage Leroy
Latest News
All News Stories For This Breeder
TOP MAIDEN HEIFERS
SHOW!
(Gold Chip x Pagewire x Boss Iron)
Grand Champion SIA Paris '17 & '19
(Winston x Rudolph)
Grand Champion SIA Paris 2013
(Advent Red x September Storm)
RED from Snow-N Denises Dellia!
COWS
(Oliver x Shottle)
From the famous Sharon cow family
(Superstition x Bolton)
From the Italian Quantita family
(Numero Uno x Mac)
Beautiful Fresh Numero Uno x Barbie
Welcome to the website of Elevage Leroy, located in the North of France, Avesnes-les-Aubert where you will find it all: a National Champion, various bull dams and cows with high lifetime productions.
Elevage Leroy is managed by father Fabrice and son Maxime Leroy. About 80 milking cows ans 90 young stock will be find in the herd. The high production cows at Leroy are housed in a beeded pack barn with straw and a concrete floor behind. Average production of the herd is now on: 305d 2x 12.039kgM 3.9%F 3.2%P
In 2013 a dream came true for Elevage Leroy with winning Grand Champion at the SIA, Paris with Lux Elf, a Winston dtr x Rudolph.
The Leroy family are flushing about 150 - 200 embryo / year.
Current sires that are used at this moment are: Hearoman, Hitorian, Hab RC-P, Islander, Pepper, Anton, Megasire, Supershot, Kingboy, Coammander and various other DNA sires.
Just like nearly all farmers, the Leroy family want cows that do not need to be pampered. To achieve that, the selection for health indexes and locomotion is very important, without forgetting the primary purpose fo cows - milk production.
The "ideal" cow for us is a beautiful cow, moves easily, efficiently uses her feed to produce lot of milk and has the ability to become pregnant on time again.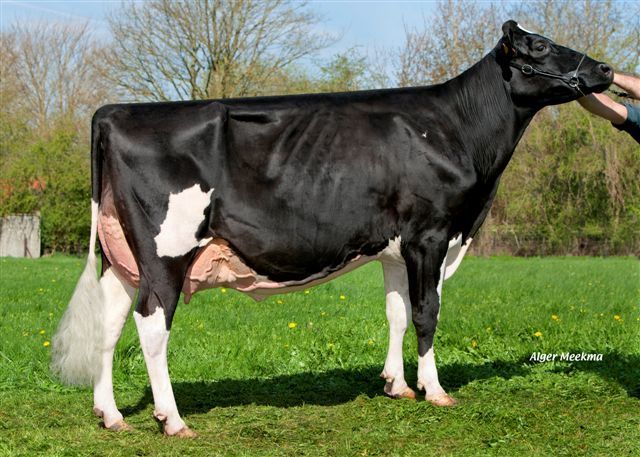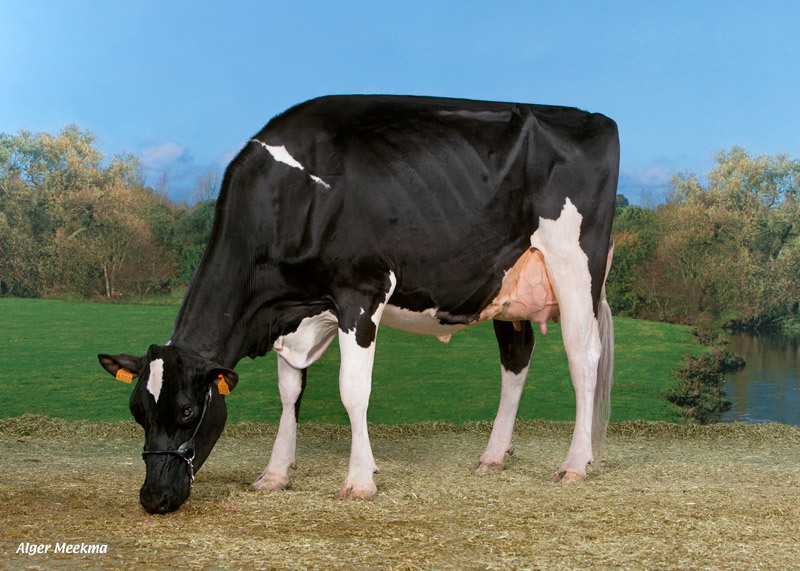 Lux-Elf VG-89-FR - Grand Champion SIA Paris 2013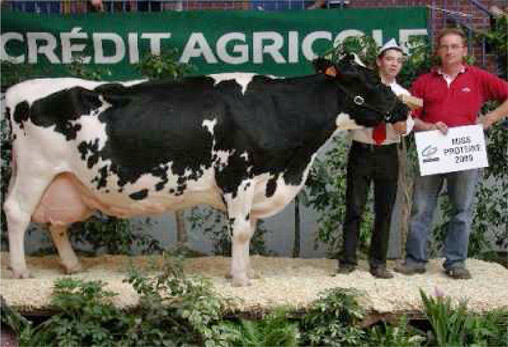 Radjae VG-89-FR - One of the best cows of the Leroy herd.
- 10 lactations: 151.000kgM on the age of 13 years.
- Great Northern Dairy Departemental 2008 - 2012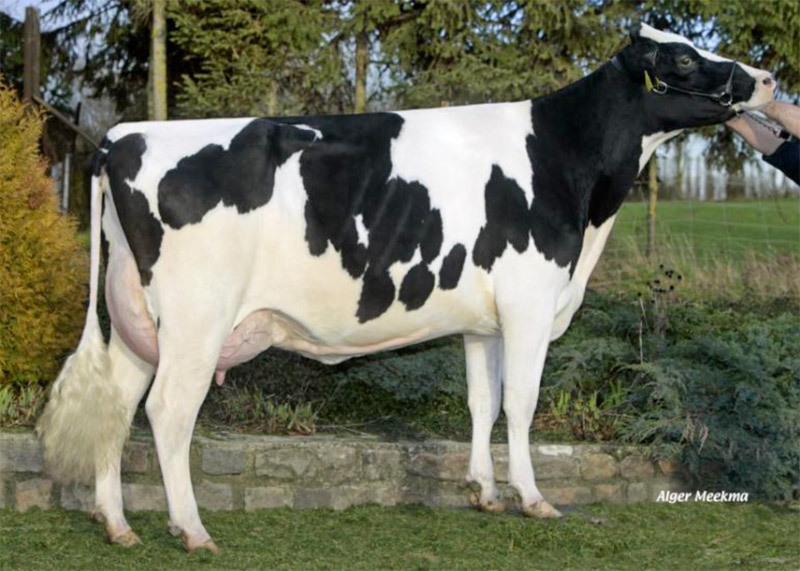 Southland Sharon 13 VG-88-FR
- Cow of the Year '13
- One of the "dream cows" in the Leroy herd
- Several progenys in AI